Millions of women in the U.S. have chosen to use the Mirena IUD as their preferred method of birth control. If you're one of these women, you need to be aware of some of the potential side effects and possible complications that users have reported with Mirena.
It's important to understand that if you've suffered from an injury that is related to your use of the Mirena IUD, you might be entitled to compensation for the emotional and physical injuries and suffering that you may have endured.
To find out if you're entitled to any compensation, give us a call at Dalimonte Rueb Stoller Stroller and let us help you find out what your legal options are. You can reach our Mass Tort Lawyers at 833.44.DRLAW or you can use our convenient contact form. Your consultation and claim review are free so you have nothing to lose.
What Is The Mirena IUD?
The Mirena IUD is manufactured by Bayer. It's a T-shaped device that is small in size. When inserted into the uterus, it will gradually, over time, release progestin in the form of levonorgestrel. This works to thicken the cervical mucus and thin out the lining of the uterus thus preventing sperm from coming into contact with an egg and thus partially suppressing ovulation.
In the year 2000, the FDA approved Mirena for birth control, later, it would also approve Mirena for women who struggled with heavy menstrual bleeding. The device, by Bayer, was marketed as a convenient option in lieu of birth control pills, especially for a busy mother who didn't want to have to worry about forgetting to take her pill.
There are two different kinds of IUDs. One is the copper-based kind and there aren't any hormones in these. The other kind is a plastic kind that releases the hormones. Mirena is the second kind and releases levonorgestrel. It's designed to prevent a woman from becoming pregnant for up to five years. It's the most common form of IUD in the U.S. today.
There are over two million women in the U.S. that use Mirena and have used it since 2000. There have been approximately 70,000 complaints since that time regarding dangerous side effects that are associated with the device and the drug that was made to the U.S. Food and Drug Administration or FDA.
There have been many lawsuits filed against Bayer Pharmaceuticals since that time alleging that there is a lack of adequate warning on the devices or in the information regarding the dangers. The lawsuits allege that the company didn't tell anyone of the potential dangers and they were understated or hidden from the consumers that the devices are both defective and dangerous.
History Of IUD Lawsuits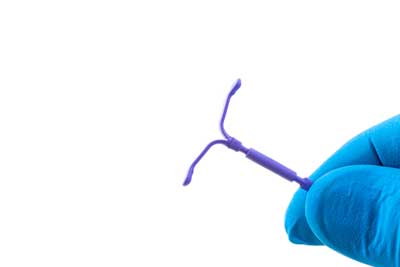 The FDA noted that on November 20, 2012, through June of 2012, there were over 45,000 complaints regarding the Mirena IUD. The product was approved in 2000 and is a very popular kind of birth control, however, in recent years, there has been an alarming number of women reporting that they are suffering from side effects that include dislocation of the device and excessive vaginal bleeding.
The first lawsuit against Mirena was filed in April of 2012 by an Ohio woman that had to undergo a hysteroscopy to remove the device after it was dislocated and implanted itself elsewhere. Since that time, more women have filed lawsuits over the nation. Litigation is rapidly growing and Mirena IUD Lawyers have recently petitioned to consolidate all of the federal cases into one in court.
What Are The Potential Side Effects Of Mirena?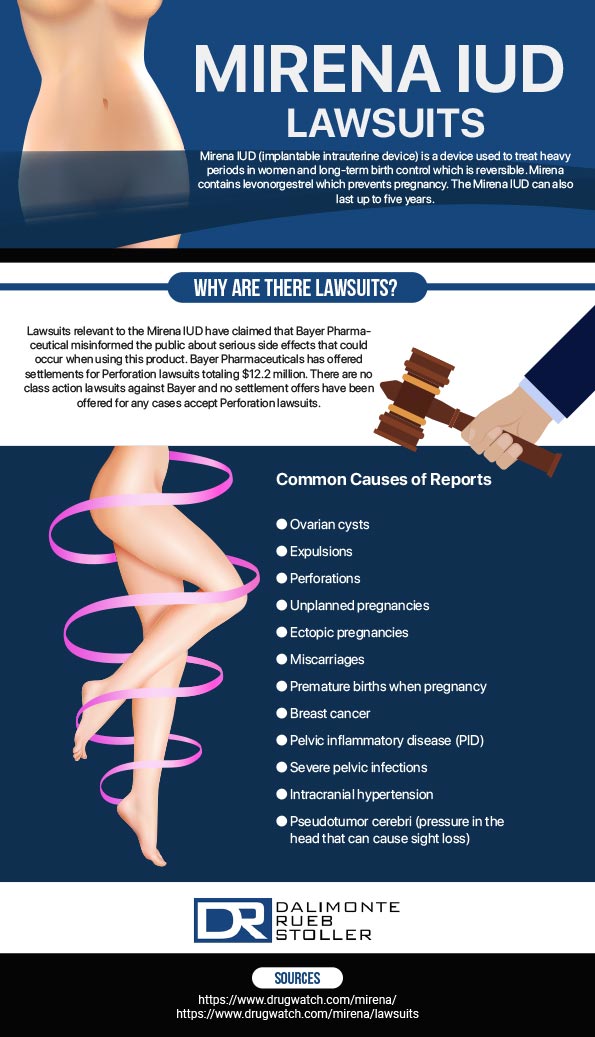 According to post-market reports, the side-effects may be quite serious. Patients using the device may be at a higher risk of any of the following:
Uterine wall perforation
Migration of the device into other areas of the body
Infertility
Infection
Cysts on the ovaries
Irregular bleeding
Miscarriages
Embedment in the uterus wall
Pseudotumor Cerebri or PTC. This can cause blurred vision, blindness (permanent), ringing in ears, dizziness, and severe migraines or headaches.
Many women have had to undergo complicated surgeries to have the devices removed. In an article in 2011, there were two cases of Mirena migration reported to the Journal of the Society of Laparoendoscopic Surgeons. In one case, the device had migrated to the woman's abdomen and in the other case, it was near her diaphragm. In both cases, the devices required surgical procedures for removal.
At Dalimonte Rueb Stoller We Can Help
Women who have suffered from injuries from a Mirena IUD may be helped by a free consultation with our Class Action attorneys at Dalimonte Rueb Stoller. Most women who file a claim against Bayer for failing to state adequate warnings regarding the health risks don't know where to turn.
Bayer has requested that the cases in New Jersey be centralized in Middlesex County as of August of 2012. However, the supreme court in New Jersey has denied this request and not explained. Lawyers for Mirena have also requested that all of the Federal cases could benefit from being in one location.
If you or someone you love has suffered from an injury from Mirena, contact us today at Dalimonte Rueb Stoller. You can reach us at 833.44.DRLAW. Let us help you get the compensation that you deserve. We'll give you a free confidential consultation.